preamble

Latest Music

Rythm guitar, meaningless lyrics and a guy playing drums
Uploaded

Dare ya to not be singing this the rest of the day
Uploaded
Most Popular

Rythm guitar, meaningless lyrics and a guy playing drums
Uploaded

Dare ya to not be singing this the rest of the day
Uploaded
Latest Comments

Rythm guitar, meaningless lyrics and a guy playing drums
Uploaded

Rythm guitar, meaningless lyrics and a guy playing drums
Uploaded

Rythm guitar, meaningless lyrics and a guy playing drums
Uploaded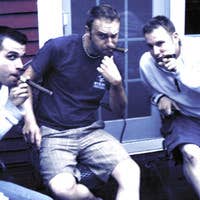 Please vote for us to play the Warped Tour. http://warped.battleofthebands.com/u/preamble
Preamble came to form because one guy knew a guy and another one married his sister.
Preamble plays music that is rockin' and fun. They have two goals for every performance. 1- Everyone has a good time and a few laughs. 2- No socks remain on any feet. (You know, cause of the rock.)
Preamble Rocks hard, smells good and never shakes babies.
Preamble is primarily influenced by the sultry sounds of the 1990s. Other influences include pretty girls and money.
from Boston, MA, United States