mslisa

Recent Favorites
Outland (The Ballad of Jarrod X) words and music by VIVIAN CIRCLE Mother, why did you lie to me? I didn't have to make the same mistakes as you. Father, why did you run away? There was so many things left unspoken with you. Jarrod walks…
Uploaded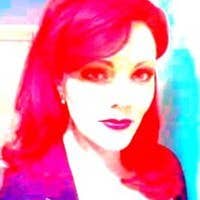 The elusive chanteuse, an inspiring muse, the ever enigmatic Ms. Lisa has risen.
Catch is, she is simply not a morning person, and it is taking her time to become truly Awake…
A founding member of Gowns and Vivian Circle, a phoenix from the flame, Ms. Lisa is currently considering her anticipated first solo soundscapes and songs in over a decade.
Mirrors, Masks. Glamour, Grimoire. Love, Loss. Betrayal, Perserverance. Introspection, Isolation. Solitude, Aptitude. Fearlessness, Flight.
Hailing from the southern shores of Long Island, renowned in the Las Vegas Music & Art Scene of the 1990's, Ms. Lisa is presently poised in the suburbs of Atlanta where she is in the midst of a trauma.
Crawling from the wreckage, sifting through the ashes, nothing left to lose, and fearless in flight…it is a new day.
Imbibe of the damn fine coffee, paint on a fresh face, smooth down the curls, straighten up the stockings, and away we go…
A Spicy Troll.
from Atlanta, GA, United States