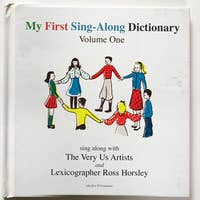 Using the 2010 RPM Challenge as an excuse to have a little fun and expand the scope of VUA's collaboration, we cooked up a little scheme with Ross Horsley, the curatorial lexicographer of My First Dictionary, a wryly twisted online children's dictionary decidedly unintended for children.
Each of these songs was not merely inspired but entirely based upon one of Ross's My First Dictionary definitions devised specifically for this project. And let's face it: one thing dictionaries have been traditionally lacking is a sing-along factor. But no more!
However, be warned. Some of these songs are not for the faint of heart. And definitely not for children. Enjoy!