Ccquared

Recent Favorites

I made this simple song to try out playing an acoustic guitar with an ebow. It works, but it's quite quiet. The movement of the fingers on the fretboard is louder than the sounds. I didn't use any effects on the guitar tracks. I recorded my voice…
Uploaded

Another trip through the Reichatron. This time I caught a groove that I wasn't gonna let go.
Uploaded

Noodling around on my guitar one day, I started thinking about the role of my mother in my musical life. To the family, she brought music. She tried the piano lessons, didn't work. But she didn't give up. When school presented the opportunity…
Uploaded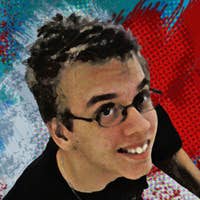 Hello there I'm Colin. You may know me as your average 17 year old… save my unrequited love of screenwriting, drawing, Cirque du Soleil, diabolo and Sufjan Stevens. Alright so I can be a little different. And while I love everything from filmmaking to acting to humor, you are now entering the arena for my latest endeavor… music! So join me as I figure out this crazy world of sounds and figure out how to make chaos from order… or something like that.
from Phoenix, AZ, United States