Civilian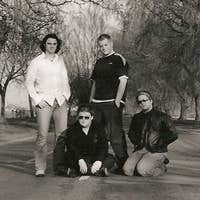 Civilian are a four piece band from Peterborough, UK. They have been around for many years in various guises and have managed to create one of the loudest noises you've never heard.
The band consist of Jay Stimson (Vocals), Chris Barn (Guitar Vocals), Danny Spence (Drums Vocals) and Mark Peacock (Bass).
The album "Civilisation" was recorded over a period of months at Fizzy Records by Danny Spence.
Credits: All songs written and performed by Civilian. Lead Vocals - Jay Stimson Guitar - Chris Barn Drums, Bass and other orchestration - Danny Spence.
See http://alonetone.com/dannyspence for Danny Spence's solo work.
from Peterborough, United Kingdom