Gliftor Draken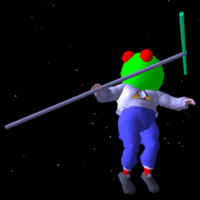 Who is Gliftor Draken? A god, a robot, an alien, an imaginary friend? He is all of these and less!
His Greenhead, an organ of pre-cerebral repetition and regurgitation, is the cocoon in which his expanded brain ripens. His T-Stick is the antenna through which the formless energy of his psychedeletions is made manifest.
Backed by earthbound guitarist and sound designer Mark Ellis, Gliftor Draken stumbles purposefully forward toward the Heart of the Psychedelic!
from Red Wing, MN and dimensions beyond, US