rick4nier

Recent Favorites

Lets dig up an old one. In another time & space had to come up with a song with the line 'Solar Radiation and a New Pair of Boots' in it. I came up with this little ditty... Blame Steve Krell !!!!!!
Uploaded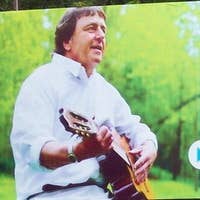 Rick is a friend of mine. He might be the most optimistic person that I know.
We worked together as competitors in the same industry, and have been friends for at least 20 years.
Rick retired early after experiencing a few health issues, and found an interest in playing guitar, singing, and writing songs at age 58.
He is now 61 (I think), and because of his optimism, has been asked to perform at the local medical facility and has appeared on billboards around town, as an example to help others foster that same positive attitude.
Rick recently performed at a local art show after being asked to provide background music to the patrons.
I recently caught up to Rick with my portable recorder and a free evening. These songs are the result.
I hope you enjoy them,
Greg Connor
from Duluth, "on the lakeside of 8th Street" MN, United States