bgnojek

Latest Music

Carl Philipp Emanuel Bach was the second of three sons of Johann Sebastian Bach. He was a crucial composer in the transition from the Baroque and Classical periods in music, directly influencing Mozart and Haydn, while retaining Baroque elements…
Uploaded

Ernesto Cavallini was considered the foremost Italian clarinetist of the 19th century. His playing was admired by both Gioachino Rossini and Giuseppe Verdi. He was in the orchestra that premiered four of Verdi's operas at the La Scala opera…
Uploaded
Recently Listened To

Carl Philipp Emanuel Bach was the second of three sons of Johann Sebastian Bach. He was a crucial composer in the transition from the Baroque and Classical periods in music, directly influencing Mozart and Haydn, while retaining Baroque elements…
Uploaded

Ernesto Cavallini was considered the foremost Italian clarinetist of the 19th century. His playing was admired by both Gioachino Rossini and Giuseppe Verdi. He was in the orchestra that premiered four of Verdi's operas at the La Scala opera…
Uploaded

hopelessness. if you succeed now, you'll fail later. i wrote this song on a banjo :) but never got it in the recording.
Uploaded
Most Popular

Ernesto Cavallini was considered the foremost Italian clarinetist of the 19th century. His playing was admired by both Gioachino Rossini and Giuseppe Verdi. He was in the orchestra that premiered four of Verdi's operas at the La Scala opera…
Uploaded

Carl Philipp Emanuel Bach was the second of three sons of Johann Sebastian Bach. He was a crucial composer in the transition from the Baroque and Classical periods in music, directly influencing Mozart and Haydn, while retaining Baroque elements…
Uploaded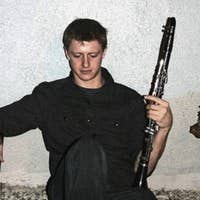 Brian Gnojek is a teacher and freelance clarinetist in the Brooklyn and Manhattan areas. He recently held a position as co-principal and Eb clarinetist of the Civic Orchestra of Chicago. Brian has performed as a substitute musician with the Kansas City Symphony, New World Symphony, and Wichita Symphony orchestras, and has performed as a solo and chamber artist in the Kansas City, Chicago, and New York City areas. Brian is an enthusiast of all music styles, and has studied both classical and jazz music formally (and informally!).
from Brooklyn, New York, United States