drorkessler

Recent Favorites

time goes by, we never notice til we die this is the why, the how the where the goodbye maybe the preacher told you right from wrong maybe you think the wait is far too long to worry your head with every little thing cause life is just a dream…
Uploaded

So I was locked in the broom-cupboard, checking out some old songs that need recording. I'd just picked one and then suddenly this thing came out of nowehere. It started with one of those guitarist doodles that other musicians love so much…
Uploaded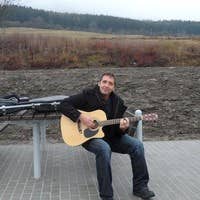 The ferociously loud rooster in the neighboring yard, the red alert sirens of falling Qassam rockets, the lack of a car in a small town on the edge of the country … the fact that he can not play the drums for the life of him … the elements on nature indeed! … all give way to Dror Kessler when we puts down yet another heart piercing song on his kitchen table.
Hailing from Israel, recording for the past 12 years and performing solo for the past 2 years, Dror is ready.
Ready to delivery, to tour, to sit across from you and tell it like it is. Dror is ready. Ready to talk about getting hooked on a loved one, on reaching out for your post-adolescents, on what it means to be alive. On leaving everything behind for second chance. Dror is ready to talk about cutting the life support.
Dror is ready. Call him when you are.
from Sderot, Israel