Guitar Music by Tim Brown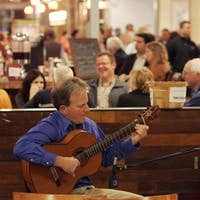 Update: I am giving guitar and ukelele lessons in the Napa area. I will be on break from working on my Music degree and have some free time between gigs. Affordable, and looking for beginning to intermediate students, also tutoring for advanced players. Not simply assigning songs but one-on-one guidance for students.
Email for more info @ flamenco4me@gmail.com
I play flamenco, latin and rock influenced music. Most songs I do all the instruments although I am clearly not a drummer. Bass, keys, hand percussion, harmonica, bamboo flute all mine. All songs are recorded as they are improvised on the spot. Flubbed notes are left in as I do not re-record over my mistakes. I am willing to forgive errors in order to keep the spontaneity of the moment.
Currently looking for bass and percussion to form live latin group. Also looking to play on other groups recordings.
from Napa, United States