Guitar Music by Tim Brown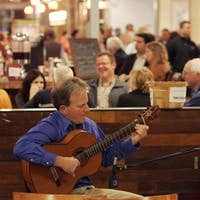 Update: Taking a break from college right now. Getting back into the studio, going to concentrate on experimental music, acoustic rock, and moving into doing more vocals.
I play guitars (electric, steel string acoustic, hawaiian slack key, and nylon string acoustic), bass, keyboards, vocals, bamboo flute, wood flute, recorder, charango, requinto. ukulele, mandolin, oud, harmonica, drums, steel pan drums, Latin percussion, middle eastern and other hand percussion, mandolin, banjo, Chapman stick. I repair, build and modify guitars and and outboard gear and effects pedals.
Email for more info @ flamenco4me@gmail.com
I play flamenco, latin and rock influenced music. Most songs I do all the instruments. Bass, keys, hand percussion, harmonica, bamboo flute all mine. All songs are recorded as they are improvised on the spot.
Currently looking for bass and percussion to form casual group. Also looking to play on other groups recordings, or just jamming.
from Napa, US