What is this I don't even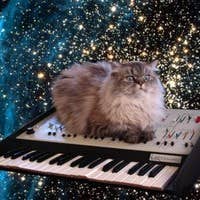 Oh god how did that get here I am not good with synthesizer
Science-fiction video game electro funk jazz fusion and experimental techno wtf dance/pop world-beat non-music that will never kick any ass. None at all. Sorry.
Most of this is from upwards of 20 years ago: Commodore 64 (SID), Amiga (MED modules), Roland JV-30 (MIDI).
Due to the technical limitations of Amiga audio (stereo with only 2 voices per channel), MED modules tend to sound a bit awkward with headphones. Speakers are better. The other formats are not as bad for this.
About the name: I never really had a name under which I could release my musical output. If it seems a bit cheap to co-opt an Internet meme for that purpose, well, probably it is, but I really can't think of anything else that suits the general wtf-ness of this stuff so well.
from the Greater Winnipeg Area
Who What is this I don't even follows