Double Trouble

Recent Favorites
I decided to challenge myself by requesting some beats from a beat producer, Ant 'Brave Toaster' Hughes. One of the beats was named Popcorn Chicken. I added a few bits and pieces with my virtual keyboard (including a little Blondie tribute…
Uploaded

Diana, or "Di", as we most often call her, has such a sultry voice and we wrote this song especially to let that aspect of her voice shine through. It's a reserved yet hot and sexy Urban R&B piece. Alan wrote the music and Di and Alan co…
Uploaded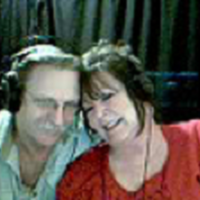 We are a husband and wife duo from near Nashville, Tennessee, USA. We write, record and perform in almost all common genres of music. We write sound tracks for movies and as such, we must write in many genres. We find it a real challenge at tines but it really expands our knowledge, our writing and our performance skills. Our favored genres are R&B, Old Standards, Jazz, Blues, Pop Rock, Latin and Contemporary Country.
Alan has been in the music biz since the 1960's as either a performer, musician or songwriter/composer. He played lead guitar in a band for about 35 years. Diana is a vocalist supreme with sultry and sexy aura to her vocals. You can feel the emotion in her voice when she sings. Although she is not professionally skilled on any instrument, she writes a heck of a mean lyric!
We hope you enjoy our efforts!
from Waverly, Tennessee, United States