the Hole Punchers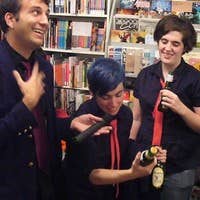 The Hole Punchers are:
Liz Baillie - guitar, vocals, writes the music MK Reed - bass, backup vocals, writes the words Robin Enrico - moral support, hits things with $1 drumsticks sometimes, and has good ideas
We are comfortable with our lack of skill. We think it is charming (maybe).
Soon Liz will have a ukulele and therefore become UNSTOPPABLE.
from Brooklyn, NY, United States