girl named sam

Recent Favorites

Same tracks, updated mixes
Uploaded

JUST AS WELL Why is youth so beautiful And why's it always wasted on the young When did my days go flying by So many passes of the sun There's so much I could tell you So much I'd like to say It might be just as well You never heard…
Uploaded

The second of two versions of Keith Landry's great song. Listen to the original [here](http://alonetone.com/keithlandryacoustic/tracks/as-the-train-rolls-through).
Uploaded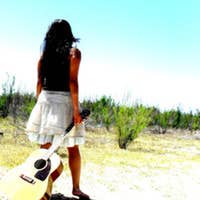 Sam picked up the left-handed classical guitar at age 10. Upon realizing that she had no skill whatsoever outside of holding the guitar in her lap, she abandoned the instrument with despair.
When she turned 14, she discovered she could learn right-handed guitar (despite being left-handed) when it was taught by particularly dreamy boys.
At age 16, Sam discovered she loved guitars much more than dreamy boys, especially since guitars never stand you up at school dances or date your best friend. Sam started filling up notebooks and recording with an old computer microphone with a sock taped around it.
Today, Sam is recording everywhere from Nashville studios to her home office in Texas. She performs everywhere and anywhere they let her in the door–including weddings and the occasional biker bar. She has probably written a song for you or about you, but will probably never tell you either way.
from United States
Who girl named sam follows