Pea Sized

Recent Favorites

guitars, synths, tabla, tambourine, and elephants (the lead melody at around 01:40)
Uploaded

the phrase "on thatch, on leaves, on tin, on willow" is from the book "A House in Bali" by Colin McPhee Originally for RPM '07 album. It might drag on a bit long.
Uploaded

This is one from the album "Hide" (2003)I Hope you enjoy it :)
Uploaded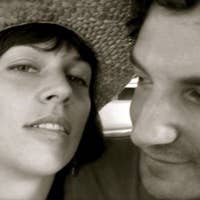 Pea Sized is Pia Kayser and Karsten Kayser from Wiesbaden, Germany. We've been a couple since 1999, and started seriously making music together in 2008. Our music is atmospheric alternative/electronic, mostly downtempo with a somewhat dark and experimental touch. Before this, Karsten had been playing with a number of local bands for over a decade, mostly as bassist.
from Wiesbaden, Germany