Tristan Haze and The Crystal City Aviators

Latest Music

The Crystal City Aviators are: Tristan Haze - guitar, vocals Nathan Clinen - bass Direz - drums The White Weapons EP was recorded by Josh Gorman at Vienna Studios, Sydney, in 2010.
Uploaded

Tristan Haze - guitar, vocals Direz - bass Recorded at Northbeach Studios in 2008-9. Mastered by Meredith Brooks at Soundwarp. To see a loose performance of a song from this era entitled The Raven, go to www.youtube.com/watch?v=0ktyDRb0FKA
Uploaded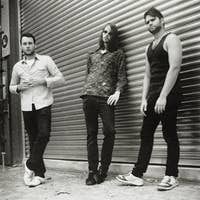 Primary influences: Syd Barrett, Bob Dylan, The Beatles, King Crimson, Jethro Tull, Robyn Hitchcock, Yes, The Vines.
http://sites.google.com/site/tristanhaze/
Download tracks FREE at crystalcityaviators.bandcamp.com/
More are available cheaply on iTunes and other sites.
Buy CDs at http://chaos.com/product/haze-tristan-signals/3847127-1755587.html and http://chaos.com/product/crystal-city-aviators-white-weapons/7999272-3786831.html
from Sydney, Australia
Who Tristan Haze and The Crystal City Aviators follows