Vern and Aggie McCoy

Latest Music

That Gillian Welch wrote this. You can't beat a good murder ballad. Is there a lawyer in the house tonight, coz Aggie swears blind this is a manslaughter ballad! And she gets right feisty about such things.
Uploaded

It's not what you're thinking. They don't make shine around here no more, do they Vernon? VERNON! WAKE UP. This is an old song we used to sing on the way to church when Vernon DIDN"T KEEP FALLING ASLEEP ALL THE TIME!!
Uploaded

This one was very popular back in the day. Old Huddie used to sing it some, but we don't see him lately. Aggie sings real pretty on this.
Uploaded
Recent Favorites

It's never too late to dream
Uploaded

A song for the end of your last set of the night.
Uploaded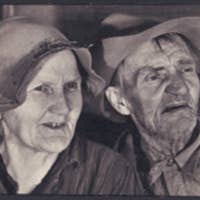 I'm Vernon and this is Aggie.
from before you were born, mister