Trevor Lewis

Recent Favorites

Acoustic improv. Top 3 pairs of strings tuned a 4th apart on 11 string guitar. And a touch of synth.
Uploaded

I called it this because that was the first thing that came into my mind when I played it back after writing it.
Uploaded

Oldrottenhead - lyrics/vocals Dave Berry - Epi Sheraton, bass, keys, drums played on Roland HD-1
Uploaded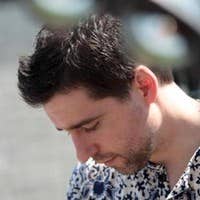 In my apartment, I record bass, guitar, drums and (unfortunately) vocals.
Ukulele has managed to elbow it's way into my repertoire and I am known to season with tambourine rather liberally.
Thanks for listening… and thanks to AloneTone for this great service.
Enjoy!
— FuzzFace
I also have an online webcomic Planet X, and the beginnings of a personal art gallery.
photo by Svetoslav Radulov
from Pays des merveilles / Land of Marvels (Wonderland)