Robert James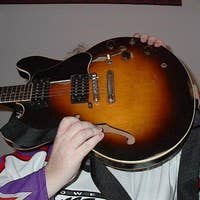 One Rule: Don't Fuck With My Stuff Without Permission.
I am a guitar player and a 3rd rate songwriter.
See also: http://alonetone.com/breakevenmusic
Prior to the switch to the white UI I was having an issue where all of my uploads were marked as private and I couldn't change them. I created a second account and moved on. Then after the white UI switch I found a couple of tracks had vanished so I moved everything back to this account and deleted v2.
from Methuen, MA